Easel with aluminum tripod frame - extendable legs - ITEM#: 470001
QTY: 1 - MANUFACTURER: not determined
---
This easel is in good condition. The tripod has extendable legs. Sorry for the poor photo. If we have time, or you have interest, let us know and we can get a better photo.
Click photo to enlarge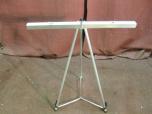 Click photo to close


PHONE:(303)530-7607
4903 Nome St
Denver, Colorado 80239
VIEW A GOOGLE MAP HERE
We are on the road a lot, so please call ahead before stopping by.
Please read our Terms of Service, Privacy Policy, Cookies Policy