Used Sit Stands Workstations With Maple Laminate And Dividers - ITEM#: 120298
QTY: 47 - MANUFACTURER: not determined
---
We have 47 of these sit-stand workstations available (
actually 66 if you include "almost matching" Item #120297
). Photos show them in groups, but we can sell them individually. They're used, but all in excellent condition. We have 3 true L-shape sit-stands where the entire L-shape goes up/down. The rest are a single straight sit-stand along with a side credenza that is fixed-height. Each station includes one mobile pedestal with padded seat for drawer storage (and additional seating). Sit stands go from about 28"H up to 48"H.
Dimensions of true L-shapes: 83" x 73" (the main corner surface is 83"W x 46"W, and there's a 23"W x 29"D credenza piece to form the L-shape. Add about 4 inches for the panel thickness to get to 73".
Dimensions of straight stations with side credenza: 71" x 62" (the main straight surface is 71"W x 28"D, and the side credenza is 30"W x 18"D x 28 1/2"H - add about 4 inches to get to 62"
Click photos to enlarge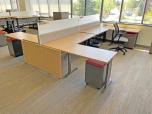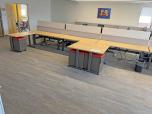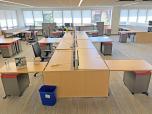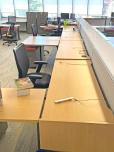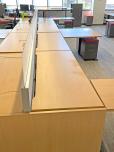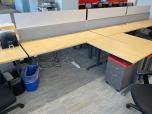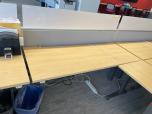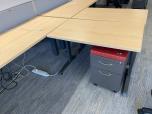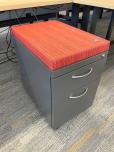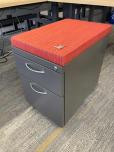 Click photo to close