Guest chair with web back and black fabric seat - ITEM#: 140052
QTY: 1 - MANUFACTURER: not determined
---
This guest chair is in good condition. It has black fabric and a black web back. It's very comfortable and clean. The back is height adjustable (you just lift it to the height you want, and it clicks and locks in place).
Click photos to enlarge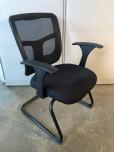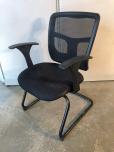 Click photo to close


PHONE:(303)530-7607
4903 Nome St
Denver, Colorado 80239
VIEW A GOOGLE MAP HERE
We are on the road a lot, so please call ahead before stopping by.
Please read our Terms of Service, Privacy Policy, Cookies Policy