Icon time systems CT-900 Calculating Time Recorder - ITEM#: 565018
QTY: 2 - MANUFACTURER: Icon Time Systems
---
We have two of these time clocks available - both are in excellent condition.
Calculates total hours worked per day and pay period for up to 100 employees.No PC Required.
Easy to use and works with popular pay periods including weekly, bi-weekly and monthly pay periods.
Supports job cost mode for small businesses that need to track time spent on task, customer or job.
Free Lifetime support included for added peace of mind
Industry First: Free Operational Battery Backup included for continued operations during power failure
Click photos to enlarge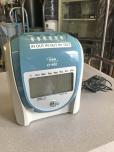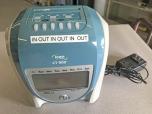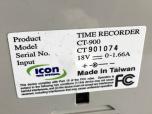 Click photo to close


PHONE:(303)530-7607
4903 Nome St
Denver, Colorado 80239
VIEW A GOOGLE MAP HERE
We are on the road a lot, so please call ahead before stopping by.
Please read our Terms of Service, Privacy Policy, Cookies Policy