Wall Rails For Hanging Paperwork Or Art ETC - ITEM#: 885143
QTY: 4 - MANUFACTURER: not determined
---
We have some of these very cool paperwork hanging rails available. There's a roller inside each rail that grabs the paper and holds it when you push it into the rail. As pictured, there are 4 rails, each about 36 1/2 feet long. As pieces:
QTY 12 - 95" long
QTY 4 - 84" long
QTY 4 - 71" long
Click photos to enlarge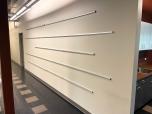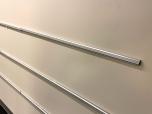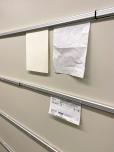 Click photo to close


PHONE:(303)530-7607
4903 Nome St
Denver, Colorado 80239
VIEW A GOOGLE MAP HERE
We are on the road a lot, so please call ahead before stopping by.
Please read our Terms of Service, Privacy Policy, Cookies Policy