5-drawer vertical file cabinet with black finish - legal - ITEM#: 260050
QTY: 1 - MANUFACTURER: Hon
---
5-drawer vertical file cabinet with black finish - legal. It's lockable. This file is heavy duty with smoothly sliding drawers. It's overall in pretty good shape, but it does have some holes along the front left side as seen in the photos, and it has some minor overall scratching/smudging. It's not too bad though. It's a high quality commercial grade file cabinet.
Click photos to enlarge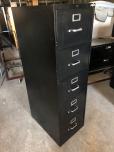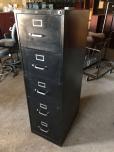 Click photo to close


PHONE:(303)530-7607
4903 Nome St
Denver, Colorado 80239
VIEW A GOOGLE MAP HERE
We are on the road a lot, so please call ahead before stopping by.
Please read our Terms of Service, Privacy Policy, Cookies Policy