Used Hon 4-drawer Lateral File Cabinets With Black Finish - ITEM#: 255158
QTY: 2 - MANUFACTURER: Hon
---
We have 2 of these used Hon 4-drawer lateral file cabinets available - both in excellent condition. They have a nice looking black finish. Dimensions: 36"W x 19 1/4"D x 53 1/4"H.
Click photos to enlarge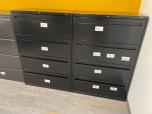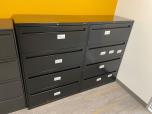 Click photo to close


PHONE:(303)530-7607
4903 Nome St
Denver, Colorado 80239
VIEW A GOOGLE MAP HERE
We are on the road a lot, so please call ahead before stopping by.
Please read our Terms of Service, Privacy Policy, Cookies Policy