U-shape desk set with oak veneer finish - ITEM#: 120145
QTY: 1 - MANUFACTURER: not determined
---
This U-shape desk is in good condition overall, although it does have some wear on the front edge where you sit (as seen in the photos). The desk had already been taken apart when we did the pictures, so we just set the bridge in there. When it's assembled though, the bridge obviously will be at the same level as the desk and credenza. Dimensions (desk): 66"W x 36"D - (bridge): 42"W x 20"D - (credenza): ? We can get the exact credenza dimensions for you if you need them.
Click photos to enlarge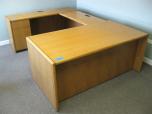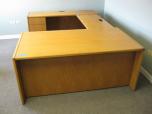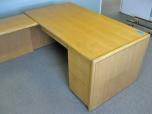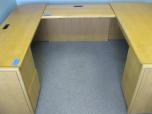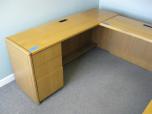 Click photo to close


PHONE:(303)530-7607
4903 Nome St
Denver, Colorado 80239
VIEW A GOOGLE MAP HERE
We are on the road a lot, so please call ahead before stopping by.
Please read our Terms of Service, Privacy Policy, Cookies Policy