Jun-air Oil-less Rocking Piston Compressor - OF302-25MD - ITEM#: 620074
QTY: 1 - MANUFACTURER: Jun-Air
---
THIS COMPRESSOR IS COMING SOON - IT'S NOT YET AVAILABLE. Jun-air Oil-less Rocking Piston Compressor with dryer (model #: OF302-25MD). It runs VERY quiet. This unit includes it's own dryer (on back). It's in excellent shape - working perfectly when recently uninstalled. We have a PDF tech sheet, and PDF manual available as well.
Includes a dryer unit installed on the back (see pics)
CFM: 4.87
HP: 0.60
Max. Pressure: 120 psi (8 bar)
Voltage: 115VAC
Phase: 1
Amps: 6.6
Tank Size: 25L
Duty Cycle: Continuous
Thermal Protection: Yes
Enclosure: Yes
Motor Type: Open Dripproof
Weight: 194 lbs (approx 250 lbs shipping with pallet weight)
Click photos to enlarge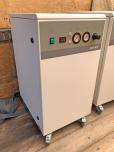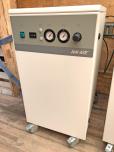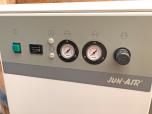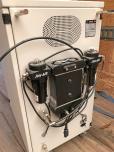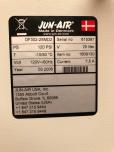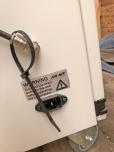 Click photo to close


PHONE:(303)530-7607
4903 Nome St
Denver, Colorado 80239
VIEW A GOOGLE MAP HERE
We are on the road a lot, so please call ahead before stopping by.
Please read our Terms of Service, Privacy Policy, Cookies Policy